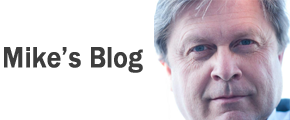 Baker Mayfield drew understandable but incessant criticism from ESPN broadcasters and later apologized for his crotch-grabbing gesture directed to the Kansas bench in a testy day that began with Jayhawk players refusing the obligatory coin toss handshake.
It was what sports writers and TV folks call a "chippy" game (a phrase no one else on earth uses — we all call it what it is, a "dirty" game.)
It went from mouthy to dirty when Kansas' Hasan Defense made a late hit on Mayfield that should have been called targeting and an ejection.
See the video here.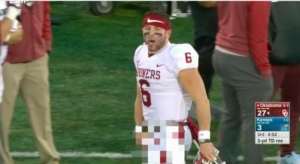 I later saw on Twitter a photograph of someone on the Kansas sideline making the crotch-grabbing gesture toward the Sooners players. I don't know who it was or even if the pic was real. But, an AP story referred to "embarrassing antics" toward Mayfield from the Jayhawks' sideline.
That reminded me of one of the times I was on the sideline to photograph a college football game. It was the 1999 Bedlam game in Norman in which Oklahoma's high-powered pass happy Josh Heupel-quarterbacked offense was going against the No. 10 nationally ranked stingy defense of Oklahoma State.
The long-haired Rob Ryan was OSU's defensive coordinator. He would later be defensive coordinator for the Raiders, Browns, Cowboys, Saints and the Bills of the NFL.
Early in the game, Ryan started taunting OU QB Heupel from the OSU sideline (where I stood for most of the game).
"Heupel you are a pussy! A f*&king pussy!" Ryan yelled from the Cowboy sideline when Oklahoma's offense came to the line of scrimmage.
As the Sooners began slicing the OSU defense into little pieces, the Ryan rants went from mere attempts at intimidation to expressions of anger and frustration.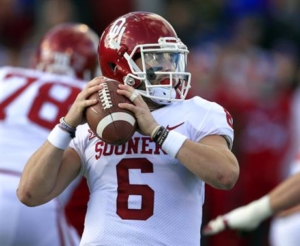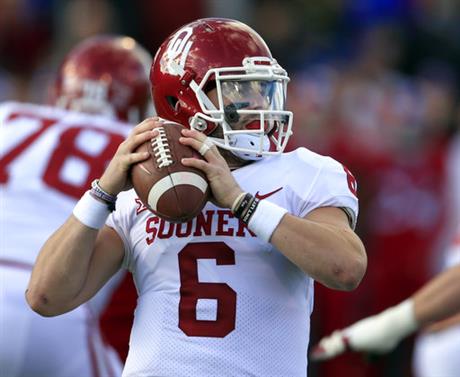 But they kept coming. Almost to the end, which was a 44-7 crushing victory by the Sooners over the Cowboys.
Not once did I see Josh Heupel respond to Ryan. Well, except for one particular third down conversion, when Heupel looked over to the OSU sideline and smiled directly at Ryan.
That is what Mayfield should have done Saturday.
Listen, I thoroughly enjoy Mayfield's passion and energy and competitiveness.
And I'm not one of those people who thinks a foul word or obscene gesture somehow ruins a game which has as its primary function the physical explosion of raw emotion upon an opponent similarly inclined.
The whole sport of football is three hours of otherwise controlled offensive behavior by guys hyped up on aggression.
Do you really think Mayfield grabbing himself is the most offensive thing that happens on a football field? Come on.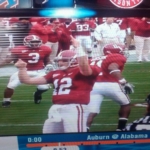 Even Greg McElroy, the ESPN color commentator critical of Mayfield, was known for flipping off Auburn fans when he was the Alabama quarterback.
But, when you are the leading Heisman candidate and a role model for kids, a sarcastic smile is a much better response to taunting than a crotch-grabbing gesture.
Especially when the TV cameras are on.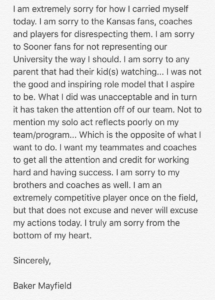 "Mayfield's obscene antics drew criticism -- but football is all about being aggressively offensive"

,