Oklahoma decided to switch things up against Kansas St. last Saturday. Instead of taking a big lead early and blowing it, they went ahead and let KSU jump on top in the first half, before we roared back in the final two quarters to escape Manhattan 42-35.
If the Sooners could ever string four quarters together they might have a shot at some post-season hardware. However they could just as easily end up in the I-Don't'-Care-Bowl if they don't get their act together.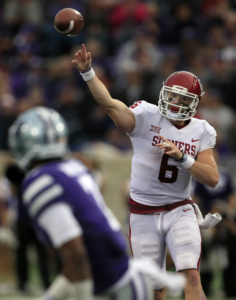 As I said in previous weeks, we will have a shot in any game we play because we have Baker Mayfield. By the way, note to Lincoln Riley: I get trying to mix things up with the wildcat and other trick or gadget plays. But when it doesn't work twice, don't try a third time.
You are taking the ball out of the hands of the best player in the country. And we sure needed him against the Wildcats.
To be sure it was a team win, but Baker had the most to do with it.
---
Season stats for Mayfield: 202 attempts, 149 completions, 73.8% completion, 2,347 yards, 11.6 average, 19 TDs, 2 INTs.
---
And with that, I have come to an uncomfortable truth. In my opinion I think that there are some players on this team that don't really care.
When you watch the tenacity and effort that Baker plays with you just know that he is giving 100% and all he cares about is winning. There are some players I see on the field that, let's just say, come up short of that kind of effort.
Again, that's just my opinion.
We will have to see if the coaches can get everyone on the same page for the stretch run that begins Saturday night at Owen Field against the Texas Tech Red Raiders.
Tech is about what they have always been. They can scores points.

Although that came to a screeching halt against Iowa St. last week. However I can't badmouth them for that, as of course we had our own debacle against the Cyclones so we have no room to talk.
It all comes down to tackling against Tech. They will get their yards; just have to make sure you keep them to field goal attempts as much as possible. Baker and the offense should be able to outscore them Saturday.
But this Big 12 season has shown us no game is in the bag.
So the Worry Meter is still at 75% this week. I fully believe Mayfield will give his all. If everyone else does, we should be celebrating this weekend.
With all that being said…BOOMER!!! — Dave