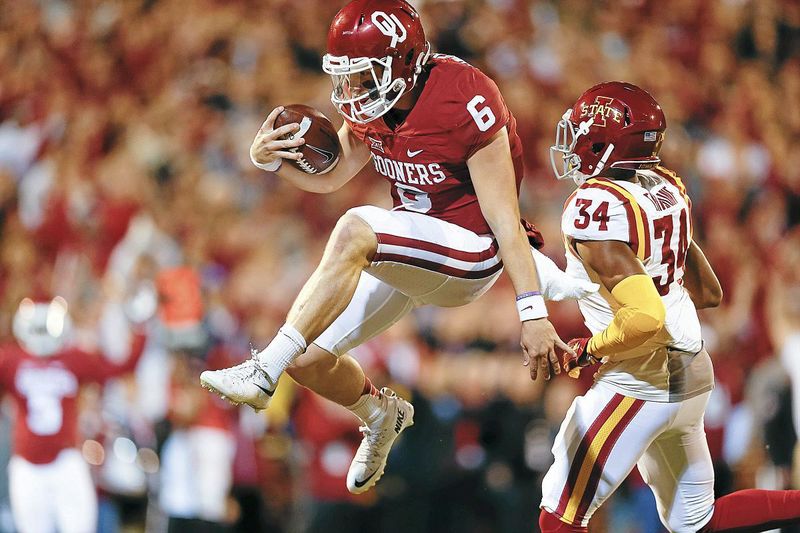 10. Kansas (Last year: 0-12, 0-9, no bowl game)
When you start at the bottom the only way to go is up. Slight improvement under new Coach David Beaty, but the Jayhawks will be pressed to win two games this season.
9. Iowa State (Last year: 3-9, 2-7, no bowl game)
The Cyclones are lacking on defense. They have an underrated QB in Joel Lanning and some good skilled position players. They may win four games this year; but, they get Oklahoma at home on a Thursday night in November.
8. West Virginia (Last year: 8-5, 4-5, beat Arizona State in Cactus Bowl)
This will be Dana Holgersen's last year at WVU.  The Mountaineers will score behind a good offensive line; but, inexperience at linebacker and secondary will hurt them.
7.  Kansas State (Last year: 6-7, 3-6, lost to Arkansas in Liberty Bowl)
We don't bet against a Bill Snyder team. Never.  This year they have QB Jesse Ertz returning after missing last year. Good talent on defense. Lacking some in team speed. Should win six games this year.
6. Baylor (Last year: 10-3, 6-3, beat North Carolina in Russell Athletic Bowl).
The Bears have depth problems.  But if QB Seth Russell can stay healthy Baylor will pull off an upset or two.  Expect an 8 win season and a bowl victory.  Even without Art Briles.
5.  Texas (Last year: 5-7, 4-5, no bowl game.)
Even winning the OU-Texas game won't save Charlie Strong's job.  Texas is improving, but the alums likely won't settle for a 7-win season and the Longhorns may be pressed to get there. Key will be the opening game against Notre Dame.
4.  Texas Tech (Last year: 7-6, 4-5, lost to LSU in Texas Bowl)
QB Patrick Mahomes will light up most defenses in this Kliff Kingsbury offense. But there are defensive issues that will hurt them. Expect many high-scoring games.  And an eight-win season.
3. Oklahoma State (Last year: 10-3, 7-2, lost to Ole Miss in Sugar Bowl)
Is anyone more consistent than Oklahoma State under Mike Gundy? Well, only TCU and Oklahoma. But, QB Mason Rudolph will be throwing a bunch to a terrific crew of receivers.  Challenge for OSU will be running the ball consistently. Maybe a top 15 team by mid-October.
2.  TCU (Last year: 11-2, 7-2, beat Oregon in Alamo Bowl)
Don't listen to Gary Patterson's aw-shucks-we're-not-so-good mantra. The Horned Frogs will miss Trevone Boykin, but A&M transfer Kenny Hill brings danger to opposing defenses. Defense is stellar too. Expect an 11-win season in Fort Worth
1.   Oklahoma (Last year: 11-2, 8-1, lost to Clemson in national semifinal). 
Expect another bid for the college football playoff from the Sooners.  Baker Mayfield may be a Heisman candidate, and if he is not then Samaje Perine should be. Possible weakness: a young offensive line and new linebackers. A tough early schedule (Houston, Ohio State, TCU and Texas in the first half of the season) will ready Oklahoma for any post-season challenges.  Expect an 11-win season.