The Sooner defense woke up after giving up touchdowns on Texas Tech's first three possessions and only allowed one touchdown the rest of the game.
Have to give credit to Mike Stoops and his staff for making those adjustments. It would have been nice had it happened sooner. But it was enough as the offense more than kept up and eventually beat down the Red Raiders 49-27.
Now we move on to Bedlam week in early November this year.
The teams seem to be pretty evenly matched. Although I do keep hearing how the pokies have apparently the greatest offense in the history of college football and all their wide receivers could have started their NFL Hall of Fame careers this year if they weren't still playing college ball.
But it seems to me that osu, after having gotten fat and happy on their weak non-conference schedule, have since played two really good defenses.
They lost to one of them at home and escaped in overtime against the other while only scoring 10 points in regulation. So as much hype as they have gotten, they of course are not invincible.
Problem is, I am not ready to call our defense really good as of yet. I think our offense will be able to score points. It just depends on the defense.
If they can start fast and come out like they did against the real OSU (Ohio State), I think we have a really good shot at winning this game.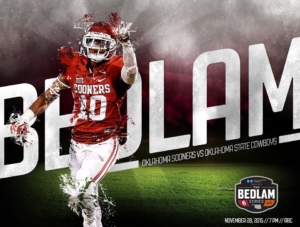 And this means please, please put pressure on Rudolph. I think he is a really good QB, but like most he hates pressure. He is not a threat to run. He just wants to sit back and pick and chose where to throw the ball.
So if Stoops drops eight and rushes three, we are in trouble.
If we get into a track meet with them, it's anyone's game. And they have the home field advantage.
And whether they admit it or not, the Oklahoma game is always the pokes' Super Bowl every year regardless of the circumstances.
It's just how little brother thinks.
And we are also going to find out if Mike Gundy had a Bob Stoops problem, or is it an OU problem.
So the Worry Meter is high again this week at 90%. The virtual playoff games start Saturday.
With all that being said…BOOMER!!! – Dave