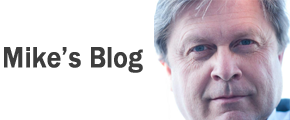 Oklahoma swagger, toughness and meanness emerged at Ohio Stadium
When Baker Mayfield paraded the OU flag around the floor of Ohio Stadium and planted it squarely on the "O" at midfield, with some teammates dancing around, many Ohio State fans and even some Oklahoma faithful cringed.
It wasn't the most respectful of post-game celebrations to say the least.
Of course when it happens at the Cotton Bowl and the opponent is a vanquished Texas Longhorn team no one cares about the look.
It is then merely youthful exuberance justified by the circumstance.
But Ohio State is different. It is among the fellow blue bloods of college football. The respective programs have been respectable collegiate competitors similar to the old Oklahoma-Nebraska relationship, albeit without the history of numerous encounters.
There is no bitterness between OU and The OSU, despite what Mayfield thinks.
Mayfield said his stunt was a spontaneous reaction to Oklahoma's 31-16 win, but admits it was responsive to last year's loss that saw Buckeye players singing their alma mater on Owen Field — something to which he took umbrage, and which provided some angry motivation for this year's return game.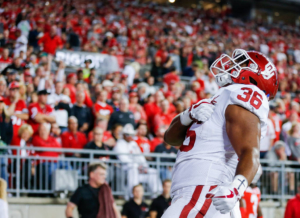 Frankly, the serious critics of Mayfield are mostly upset Ohio State fans looking for somewhere to vent their frustration over the ass-whipping Mayfield and gang conducted a few minutes before.
But even other fans, including Oklahoma fans, who believe it was not a classy look for Mayfield, have a point. It wasn't respectful of their tradition. It wasn't classy.
Such high-brow view of the game of football — romanticized by fans of the traditional schools of Oklahoma, Ohio State, Notre Dame and the like — is a good goal, but may conflict with the realities of the game.
Football is testosterone-driven aggression, where victory comes from one team physically beating the other. That happened in Columbus when the Sooners' bigs (the offensive line described as the best in the country) manhandled the Buckeyes' bigs (a defensive line touted as the best in the country).
It is hard to turn that off in the moments after the final gun.
Mayfield's display of swagger — not just postgame but pre-game, during the game, above and below the game — harkens to the brashness of the Barry Switzer era.
Switzer reminded folks that only injuries kept the Sooners from killing the Buckeyes in 1977 , the game that was ultimately won by the historic "kick" by Uwe von Schamann.
"They were fixin' to get half-a-hundred hung on 'em," Switzer said, referencing the most iconic quote from his career. Yeah. Swagger. Switzer and Oklahoma invented it.
---
Sooners move to No. 2 in AP Poll, No. 3 in this week's Coaches Poll
---
Mayfield's demeanor also exemplifies something from the Bud Wilkinson era, when the Oklahoma players were just plain big, fast and mean.
Football is a test of wills, strength and aggression. Many major college football teams and some NFL teams practice what's called the "Oklahoma Drill", a one-on-one test that is the football version of man-to-man combat. It is called the "Oklahoma Drill" because legendary Oklahoma Coach Bud Wilkinson invented it.
I know for most OU fans the idea that the Sooners could ever be the "bad boys" of football is anathema to their view of the Sooners as the "good guys." They are more than happy to leave the dark labels to the Miami Hurricanes of the 1980s. Or any Nick Saban-coached SEC team.
The late Leon Heath, an All-American fullback for the Sooners on Wilkinson's 1948-1950 teams, once told me that when he came to Norman as a freshman he was stunned to see full grown soldiers as his teammates. They had come to play at OU following service in World War II.
"These guys had killed Nazis during the war. So, blocking and tackling players on a football field was no big deal. They were men. And they could be mean," Heath said.
Those returning veterans, mixed with talented youngsters like Heath, comprised the Sooner teams that achieved win streaks of 31 (1948-1950) and 47 (1953-1957), still the NCAA record.
That image of the Sooners being the tough, mean bad boys of college football was tempered by Wilkinson's gentle public persona as head coach.
But Wilkinson, who had served in the Pacific Theater as a Navy officer on an aircraft carrier, knew that channeled aggression won football games.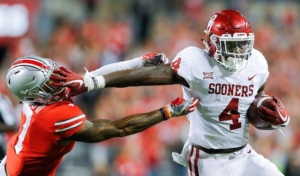 Swagger and mean demeanor. We saw that Saturday night from Oklahoma in their destruction of Ohio State.
We saw that aggressiveness in Oklahoma's 64-yard fourth quarter drive, capped when Mayfield side-armed the 10-yard pass to freshman RB Trey Sermon who barreled into the end zone to extend the Sooners lead to 24-13 (after OU had been down 10-3 early in the second half).
The Sooners put their boot on the Ohio State throat and did not let up.
Now I'm not saying these Sooners are warriors of war. They are all college kids who have not experienced real war and have not earned any comparisons in that regard.
And, unlike those war veterans, they certainly do not have the full emotional maturity — a patina of understanding that comes from life experience — as evidenced by Mayfield's spontaneous flag planting ceremony. (Although I admit, in the heat of the moment, the flag event had even me saluting).
But these Sooners are now part of that Oklahoma reputation for toughness — and, yes, meanness – that began 70 years ago under Coach Wilkinson.
Interestingly, this is emerging under first year Coach Lincoln Riley.
Some of my fellow OU season-ticket holders often complained that Bob Stoops' teams were not mean enough.
Much current discussion is about the similarities between Riley and Stoops. He does have the occasional clipped delivery of Stoops in his speech.
But, Riley may be more Wilkinson-esque than Stoopsy.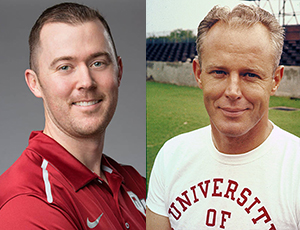 Wilkinson (Sooners coach from 1947-1963) had been a quarterback at Minnesota. He later became an assistant at his alma mater. He was an offensive master-mind, perfecting the Split-T and option football — the precurser of the zone read option popular today. Wilkinson had become a hot commodity among coaches early in his career. Some believe he was the heir apparent when he was hired as an assistant at Oklahoma.
Wilkinson was an assistant to OU Coach Jack Tatum in 1946. When Tatum left Norman the next year the university elevated the young Wilkinson to head coach. Wilkinson was only 31 years old.
Any of this sound familiar?
Riley is also truly an offensive mastermind, a former quarterback at Texas Tech — the whiz kid of college assistants when Oklahoma plucked him up from East Carolina. He was elevated to head coach after only two years as assistant at Oklahoma when Stoops suddenly retired. And at only 33 years old.
Like Wilkinson, Riley has a gentle and respectable public persona that will comfort Sooner fans who don't want their team to be the bad boys. He will remain the official image of the team.
But, make no mistake about it, this 2017 bunch has the swagger, mental toughness and physical meanness of the Sooners of old.
They proved that in Columbus.
---
Photo credits: Kyle Phillips, Norman Transcript; Ty Russell, Soonersports.
"Mayfield's flag planting not good look, but may be good sign"

,