WORRY METER AT HIGHEST LEVEL
The Sooners dispatched UTEP with relative ease last Saturday in the home opener of the 2017 season. We can't really take much away from the game due to the level of competition.
And, although it's not fair, with a game like that all I can look at are the negatives. I was disappointed in the run game even though we ended up with close to 200 yards rushing by games end. With the experience of our offensive line, we should have averaged more than 4.7 yards a carry. But with three new running backs, maybe that was to be expected.
I was also concerned that Baker had to scramble several times because no one was getting open. Again, maybe that can be chalked up to relative inexperience in our wide receivers.
Mark Andrews was a huge bright spot in the receiving core. I don't think he dropped one pass; a problem from last year I hope does not rear its ugly head. Again, this is probably nitpicking and I would assume that the playbook was very slim for this game.
One would think we would not show more than we had to show considering our next opponent. And our next opponent is a doozy.
Oklahoma travels to Columbus to seek revenge this Saturday against the Ohio State Buckeyes in one of the most anticipated college football match-ups of the season.
The past two weeks I have been going back and forth on this game. One day I am full of confidence that we will go into Columbus and right the wrong of last year by taking the Buckeyes to the woodshed. The next day I would just be happy to keep it at a less than double digit loss. It's like flipping a coin.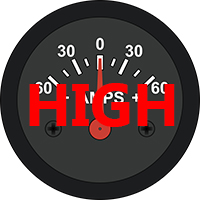 So first, let's look at heads and why we could win. And you need to look no further than Baker Mayfield.
In college football, if you have an elite quarterback, on any given day you can beat anyone. Baker is among the best QB's in the game today. The arm, the accuracy and the elusiveness. Baker has it all. He is magician-like in the pocket. You think you have him and then in an instant he is gone. He can make all the throws and then some.
Add to Baker an offensive line that many say is the best in the country. The O-line is a big reason for optimism going into this game. If they can protect Mayfield and give him that one extra second, we can carve up an inexperienced Buckeye secondary.
And even though our running backs are new, the line should hopefully be able to open a few holes to maintain a pass/run balance that can keep Ohio St. off balance.
Our defense should be better this year as well. We need to load up against the run and make Barrett beat us through the air. Last year was an aberration. He basically threw up 4 jump balls and Noah Brown was able to bring them all down for TD's, thanks to our inept defense early in the year. Take away those four plays and Barrett threw for like 75 yards.
Noah Brown is gone and we have more experience and talent at corner now that should be able to contest the ducks that Barrett tosses up.
And look at last year's stats. First downs: Ohio St 22, OU 19. Total yards: Ohio St. 443, OU 404. Passing yards: Ohio St. 152, OU 226. Rushing yards: Ohio St. 291, OU 178. That was a closer game than the final score would indicate.
If we can keep from turning the ball over, we can win this game.
However, the other side of the coin can get ugly. Just as OU has one of the best offensive lines in the nation, Ohio St. has THE best defensive line in the nation.
And they have depth. They rotated 12 defensive linemen against Indiana. And on passing downs they will run out a 4 man front made up of defensive ends to get after the quarterback. We just don't have the same type of talent on our defensive line yet. We need another Gerald McCoy.
And even though Barrett isn't the best passer in the country he can and will scramble for yards. Ohio St. also has a freshman running back that OU coveted. J.K. Dobbins had 181 yards against Indiana on the road. And they have added new playmakers at receiver that will test our cornerbacks.
Another factor we cannot over look is coaching. I love Lincoln Riley and think he will be a great head coach for years to come. But this is just his second game in charge. And he has to go up against Urban Meyer who most would say is the second best coach in the game right now.
Meyer, no matter how you think of him ethically, will have the advantage in this game. The man has three national titles. He knows how to win big games.
Oh yeah. One last thing. Of course Ohio St. has the home field advantage. Which in a game like this is huge. And I haven't even mentioned that we are trying to replace Perine, Mixon and Westbrook, three of the best players to ever play for OU.
In the end I just don't think we ready for this. Give us two or three more recruiting classes like the last few years and I think we will be up there with the Alabama's and Ohio St.'s of the world. But we just aren't there yet.
So the Worry Meter is at 99% this week. Two sides of the coin. Hope it comes up heads for the Sooners this weekend. With all that being said…BOOMER!!!
— Dave
---
KICKOFF: 6:30 PM SATURDAY – ABC TV