OU vs OHIO STATE – Saturday at 6:30 pm CT. ABC. 50 yard line ticket price: $709.
Many learned folks are seeing Saturday's Oklahoma-Ohio State game in Columbus as simply last year part II.
The transition to Lincoln Riley as the head Sooners coach wasn't expected to bring much change. And so the national narrative has become that Oklahoma this season will continue where it left off last season, which in the case of this game would mean another loss to the Buckeyes, who physically manhandled the Sooners in a 45-24 beatdown in Norman last September.
Saturday's lopsided win was a positive start for the Sooners. But the 56-7 victory over UTEP wasn't much more than another practice scrimmage. Baker Mayfield completed 16 consecutive passes to open up the game — a school recdord. He finished 19 of 20 for 329 yards — in the first half!
But, real football begins this week when the No. 7 Sooners travel to Ohio to face No. 2 Ohio State in the return match.
Some things are different this year, though.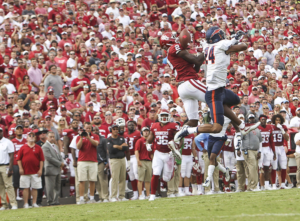 Sure, Baker Mayfield returns. And in fact, he is undefeated at quarterback since last year's game on Owen Field. Gone are Dede Westbrooke, Joe Mixon and Samaje Perine.
But if there was anything that looked different last weekend about this Sooners offense, it was that 14 different wide receivers caught the ball. I think they call that "depth."
Star on the team was Mark Andrews, who had a career best of 7 catches for 134 yards. If Andrews has a big day on Saturday it could mean a win for Oklahoma. Tight ends are difficult to guard against. Ohio State's stumbling win over Indiana in week one showed some chinks in the armor of their defensive secondary.
Add Kentucky transfer Jeff Badet to the mix of receivers. He contributed with four receptions for 91 yards, including a spectacular 51-yard reception against UTEP.
Maybe the biggest change from first year coach Lincoln Riley was the fact that Mayfield didn't play at all in the second half. One of the common criticisms in the Stoops era was the fact coaches kept starters in the game too long, risking injury and not developing second and third team players as effectively.
That wasn't the case on Saturday against UTEP. Backkup QB Kyler Murray played most of the third quarter, showing his speed and accurate passing that made him a top-rated high school QB from Allen, Texas. One of his receiver targets on a TD pass was high school teammate Lee Morris, who scored on a 53 yard play. Morris is a walk-on.
There were players on the field the entire fourth quarter wearing duplicate numbers, meaning they weren't likely to see the field at all this year.
Around the rest of the Big 12
No conference games have been played yet, but Texas' 51-41 loss to Maryland, a bottom half Big 10 team, might have been worse than a conference loss. It was a crusher to the Longhorn pscyhe, after an off season of optimism and ESPN's continuing chant about the return of the once prominent program.
Take Texas out of the discussion.
What was worse than UT losing to Maryland? Baylor's 48-45 loss to Liberty. Who knew that Liberty had a football program? And who knew that Baylor had scheduled them in the first place. Baylor has sustained a player-induced death penalty, with most of their talent transferring elsewhere. Too bad for the Bear fans, who have that shiny stadium in Waco to fill. Maybe they can schedule University of Phoenix or some on-line trade school next.
What Baylor fans had to say about it
Meanwhile, Oklahoma State clobbered Tulsa 59-24. Count them in the mix.
West Virginia lost to Virginia Tech 31-24, but have nothing to be embarrassed about. Good game between evenly matched teams. They have a shot at the conference championship.
TCU had a cakewalk over Jackson State, 63-0. Yes, a contender.
Kansas State walloped Central Arkansas, 55-19. They're in the discussion.
Texas Tech beat Eastern Washington 56-10. Let's wait and see about Cliff Kingsbury's boys.
Kansas defeated Southeast Missouri, 38-16. That was cute.
Iowa State defeated Northern Iowa 42-24. Not a great opener, but it was a win. Unlikely for the Cyclones to get far in the conference, but they might embarrass Texas.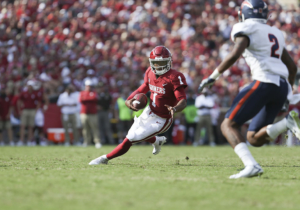 photos: Paxson Haws/The Daily
"What's different for the Sooners this year? The Ohio State game will tell..."

,