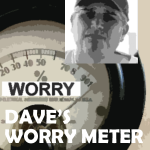 Oklahoma bolted out to a 41-7 lead in the early stages of the third quarter against West Virginia in Morgantown a few weeks ago. You would think a 34 point second half lead would be pretty safe.
Well, we just can't have nice things. Enter the Sooner defense in all its sieve-like glory. Tavon Austin II in the form of Justin Crawford rushed for 334 yards and an eye popping 13.8 yards per carry and all of a sudden West Virginia was within two possessions with over ten minutes left in the game.
The offense came in to save the day with two more touchdowns to win going away. Not much to say about the defense that has not already been said. Just have to outscore opponents.
Easier said than done with a really good pokie team coming to town Saturday morning with a Big 12 Title at stake.
Where the hell did Vegas get OU by 14 points?!?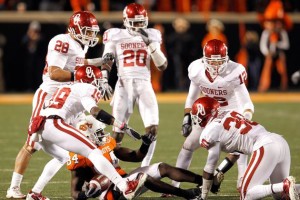 Now I would think this line goes down as the game approaches because I can see money coming in on the pukes at that number. This game will be decided by single digits.
The cowboys bring a stout offense to the Bedlam table. Rudolph can throw the ball down the field which is bad news for the Sooner secondary.
And don't look now, but the pokies can run the ball as well.
The OU offense can't skip a beat if they want to keep pace.
With all the talk about the offenses coming into this game, it might be the defenses that decide the contest. That may sound weird because neither defense is any good.
If you look at the stats in Big 12 play they are just about even. One might give the edge to osu, because the Sooner D has shown to be downright abysmal at times.
But it will be the defense that makes that one extra stop or picks up that one loose ball that will probably make the difference because the offenses will have their way in this game. And with the weather expected to be cold and wet, that will only enhance turnover opportunities. I think that the weather will work in the Sooner's favor as we have the better run game.
But OU will need to be able to throw the ball regardless of the conditions to win.
So with a Big 12 Title on the line, the Worry Meter is exploding at 95%.
Here's hoping Bob and the team bring home number 10 this Saturday. With all that being said….BOOMER!!!
– Dave