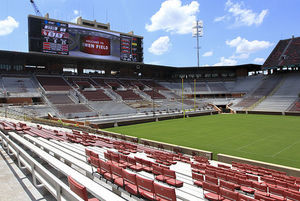 Construction crews have worked feverishly since the 2015 season ended to complete the south end zone renovations at Gaylord Family Oklahoma Memorial Stadium. There are no about 750,00 man hours in the project.
Although the outside appearance won't be completed, all the fan amenities inside the stadium will be ready for the September 10 home opener against Louisiana-Monroe, school officials say.
Read this OU Daily story about how the  contractor is nearing completion.