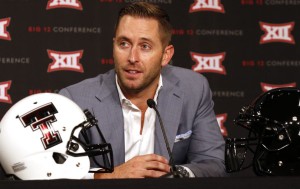 Texas Tech Coach Kliff Kingsbury
Texas Tech coaches have staffers pretend to be cute girls to spy on their players' on-line activities.
Really.
Coach Kliff Kingsbury, at age 36, isn't much older than his players. He knows the importance of Snapchat and Twitter and other social media sites. He admitted recently to setting up fake accounts in order to monitor his players.  Some players even know about it, but can't resist "friending" anyone purporting to be an attractive female.